Connect to
my Desktop Computer
Request Support for
Work/Teach from Home  
The College of Engineering Information Technology (COE-IT) office provides IT services to the COE community. We provide a wide range of services to support the academic, administrative, and research computing needs of the college. Our services include file and print sharing, data backup and archives, web hosting, computer labs, technology consulting, and repair and maintenance services. While some of our services are fee-based, most are funded centrally by the CoE Dean's Office so members of the College can utilize them at not cost.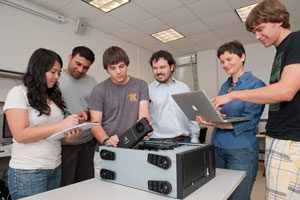 FREQUENTLY REQUESTED SERVICES
Computer Recommendations for First-Year Engineering Students
The College of Engineering has no specific requirements regarding brand, operating system (i.e., Microsoft Windows vs. Apple macOS), or configuration – in general, we recommend using the University of Delaware's recommended minimum system requirements as a guideline, with the following additional notes:
Students in all programs will benefit from using a laptop computer with built-in webcam, microphone, and speakers/headphone support (vs. a desktop) due to an emphasis on in-class and group technology-based projects and the ability to support remote learning.
Students in the Electrical and Computer Engineering program have no brand or operating system requirements. Students in these programs can be successful using hardware that meets the minimum UD specifications.
Students in the Computer and Information Sciences program pursuing either a BA or BS in Computer Science or a BS in Information Systems should purchase computers satisfying the following requirements. Machines meeting these specifications will likely suffice for a 4-year CIS undergraduate career:

Type: a laptop/notebook is necessary for many classes
CPU: 10thGen or later Intel Core i5, i7, or i9; 4000, 5000 series or later AMD Ryzen 5, 7 or 9; Apple M1 Processor. The CPU should have at least 4 cores.
RAM: at least 16GB
OS:

Windows: Microsoft Windows 10 Pro, Enterprise or Education version
Mac: macOS 10.15.X "Catalina" or 11.X "Big Sur"
Linux: Ubuntu 20.04.X LTS (or later LTS)

Students in the Material Science and Engineering programs are encouraged to use a computer with the following minimum specifications in addition to UD's recommended minimum system requirements.

CPU: 10thGen or later Intel Core i5, i7, or i9; 4000, 5000 series or later AMD Ryzen 5, 7 or 9; Apple M1 Processor. The CPU should have at least 4 cores.

Students in the Biomedical Engineering,Civil and Environmental Engineering, Mechanical Engineering and Chemical & Biomolecular Engineering programs will benefit by having a computer powerful enough to support the demanding video and computational requirements necessary for their coursework. For these academic programs we recommend a computer with the following minimum specifications in addition to UD's minimum recommendation:

CPU: 10thGen or later Intel Core i5, i7, or i9; 4000, 5000 series or later AMD Ryzen 5, 7 or 9; Apple M1 Processor. The CPU should have at least 4 cores.
OS: Windows 10 (64bit)
RAM: at least 16GB
GPU: Discrete graphics processor from AMD or NVidia.
Students with experience setting up and operating virtual machines or dual booting machines may elect to choose from a wider range of operating systems, such as macOS and Linux.
Storage: a 512GB SSD or larger is recommended if you intend to run virtual machines or dual boot.
Whether your computer crashes or you accidentally delete a file, it's devastating to lose work files. With CrashPlan, your files are automatically saved and securely stored on two of our on-campus data centers, so you never have to worry about losing your hard day's work. Available on Mac, Linux and Windows PCs, CrashPlan runs automatically and silently in the background, continuously protecting the data created and stored on your desktops and laptops. With CrashPlan, you are able to get back files you lost or deleted with the click of a button and enjoy 24/7 access to your computer's backed up files through an app on your mobile device.
CrashPlanPro Benefits:
Automatic – You don't have to do a thing. Your files are automatically backed up, never impacting your computer's performance.
Secure – Your data is encrypted before being sent to our storage servers. Your data is kept on-campus in two UD owned and managed data centers.
Continuous – CrashPlan's lightweight client backs up new files and the changes you make to existing files as you make them, ensuring your backups always have your most recent data.
Unlimited – Each faculty and staff member is licensed for up to four (4) UD owned devices (desktop or laptop computers) with no storage limits! Connect your USB hard drives or USB flash drives and let us back those up too!
Free – The College of Engineering is providing this service free to all faculty and staff within the college.
AppsAnywhere
AppsAnywhere is a web portal that provides students, faculty and staff with free access to College of Engineering software and remote desktops with a single click from any computer.
AppsAnywhere features:
Support for Windows, macOS, ChromeOS, and Linux.
Access from personally owned computers and mobile devices.
Access from on or off campus.

Eligibility
This service is available to all Departments, Research Groups, and Faculty* members within the College of Engineering for research related data. This service is not intended for individual data backups.
*Faculty members are eligible if they do not already have an EFS drive for their research group. If an EFS drive for the research group exists, please use that one for your data. You will be able to set up permissions to allow specific people (or only you) to access these files.
Features
EFS provides 1TB of free (forever) storage per faculty member or research group.
Additional storage can be purchased in 1TB increments for a nominal one-time fee of $500.
We have the ability to expand your storage up to 1.8 PB (petabytes) if needed.
The data is accessible via: Mapped network drive, Web interface, Mobile clients (Android, IOS, Windows Phone)
We have created a web interface to empower you to add and remove users to enable/disable access to your share folder, but we can do it for you with a help desk request if you prefer.
The data resides on premise in the UD data center at Chapel Street.
We are using a highly-available enterprise storage solution that is resilient to hardware failure.
Data is backed up nightly to an alternate data center on campus for disaster recovery (DR).
We keep 90 days of online backups and then archive to a third data center on campus.
We will keep archive data for at least 1 year.
Staff
Our IT team members are eager to help you should you require further assistance. Our main offices are centrally located on the Newark Campus in Room 011, Hullihen Hall.
Jay Avni

Computing Support Specialist II, Service Desk Manager

Trevor Buttrey

Computing Support Specialist II – Support Specialist

Deavon Church

Computing Support Specialist II – Support Specialist

Doug Jay

Computing Support Specialist II

Joel Kolb

IT Systems Support Consultant III – Systems Administrator

Jacob Kuchma

Computing Support Specialist I

Iulia Liusenco

IT Support Consultant II - Support Specialist

Matthew Toner

Interim Director
Systems Programmer IV, Engineering