INTELLECTUAL NEIGHBORHOOD

The Engineered Therapeutics neighborhood is home to experts in nanomedicine, precision and personalized medicine, computational biomedicine, biomedical informatics, immunoengineering, therapeutic delivery, biopharmaceuticals and more. We're advancing the discovery, design, development, manufacture and delivery of lifesaving therapies to enable a healthier future for humans around the world.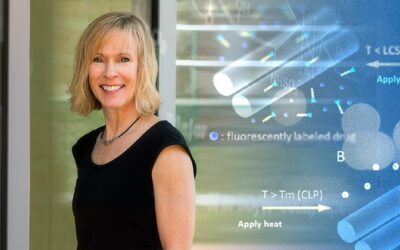 UD researchers advance drug delivery systems to treat connective tissue disorders.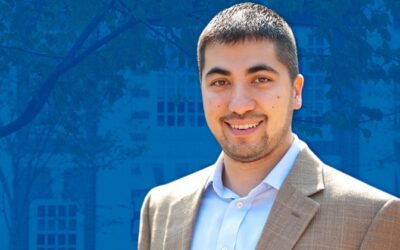 Mark Blenner to join UD and bring funding to address challenges in industrial yeast fermentation.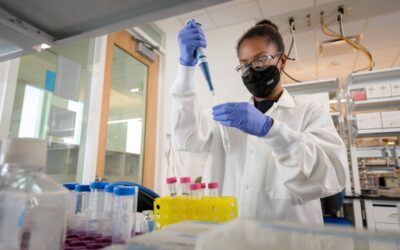 Blogging scientist N'Dea Irvin-Choy designs nanoparticles to protect expectant mothers and their babies.
Day, an associate professor of biomedical engineering, develops innovative nanomaterials that enable high precision therapy of cancer and other diseases, and elucidates how nanoparticle architecture impacts function by studying nano/bio interactions from the subcellular to whole organism level.
Kloxin, Centennial Career Development Professor of Chemical and Biomolecular Engineering, does research at the interface between engineering, materials and biology and aims to push multiple fields forward in both the design and application of new molecular tools. In 2019, she was awarded a National Institutes of Health (NIH) Director's New Innovator Award to develop next-generation materials and tools to accelerate research in idiopathic pulmonary fibrosis — an incurable, fatal disease that leaves people with difficulty breathing and progressive lung scarring.
Lee, the Gore Professor of Chemical and Biomolecular Engineering, is the Institute Director for the National Institute for Innovation in Manufacturing Biopharmaceuticals (NIIMBL). He is an expert in Biomolecular, biomedical, and metabolic engineering; proteomics and systems biology; biological mass spectrometry; protein secretion and synthesis; diagnosis and treatment of neurodegenerative diseases.
KEY RESEARCH CENTERS AND INSTITUTES
DATA SCIENCE INSTITUTE
The Data Science Institute combines disparate, dynamic, and distributed datasets and enable everything from predicting the future behavior of complex systems to precise medical treatments, smart energy usage, and focused educational curricula. Website
DELAWARE BIOTECHNOLOGY INSTITUTE
NATIONAL INSTITUTE FOR INNOVATION IN BIOPHARMACEUTICAL MANUFACTURING (NIIMBL)
The National Institute for Innovation in Manufacturing Biopharmaceuticals (NIIMBL) is a public-private partnership dedicated to advancing biopharmaceutical manufacturing innovation and workforce development. NIIMBL is one of 14 institutes in the Manufacturing USA network. Each institute focuses on a different technology, but share one common goal — to drive U.S. leadership in advanced manufacturing. Website
BIOMOLECULAR INTERACTION TECHNOLOGIES CENTER
The Biomolecular Interaction Technologies Center provides advanced methods for the analysis of biomolecular interactions; transfers technologies through training, consultation and collaboration; and provides an environment in which academic and industrial researchers can interact. Website
CENTER FOR BIOINFORMATICS AND COMPUTATIONAL BIOLOGY
The Center for Bioinformatics and Computational Biology promotes, coordinates, and supports interdisciplinary activities in Bioinformatics and Computational Biology, an emerging field where biological and computational disciplines converge. The Center for Bioinformatics & Computational Biology (CBCB) is an interdisciplinary, cross-campus and inter-institutional initiative for the Delaware research and education community, and is built on the Bioinformatics core at the Delaware Biotechnology Institute (DBI) and the bioinformatics infrastructure of the Protein Information Resource (PIR). Website
CENTER FOR BIOMANUFACTURING SCIENCE AND TECHNOLOGY
The Center for Biomanufacturing Science and Technology brings together faculty at the University of Delaware that tackle a wide array of problems and fundamental challenges in areas ranging from: cell culture processes and bioreactors; high-end and scalable purification processes; product formulation and stability; drug delivery; manufacturing; and analytical technologies, instrumentation, and algorithms to support all of these areas. The Center supports cutting edge research facilities on campus, educational activities including seminars, workshops, and short courses, as well as industrial research consortia. Website
CENTER FOR NEUTRON SCIENCE
CENTER FOR RESEARCH IN SOFT MATTER AND POLYMERS
The Center for Research in Soft matter & Polymers (CRiSP) serves to collaboratively advance transformative polymers and soft materials research by leveraging the burgeoning excellence of UD faculty, students, staff, and outside partnerships in this fast-growing and highly-interdisciplinary field. Website