National Engineers Week – 2019 Activities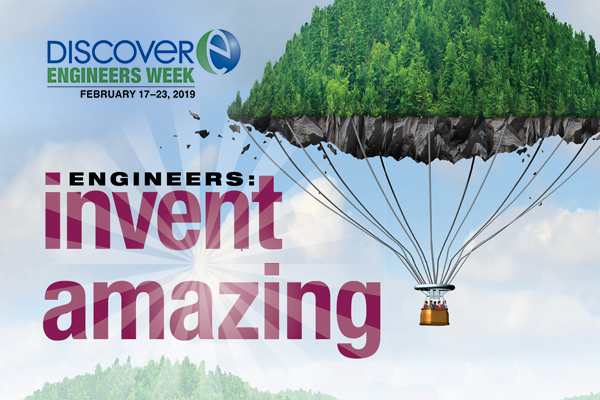 About Engineers Week
Engineers invent things that amaze us in the moment. Think jaw-dropping space launch. But many of us take for granted much in this engineered world that is everyday amazing, like clean drinking water at the turn of a faucet.
During Engineers Week we celebrate engineers and how they improve our lives. The need for the next generation of practical inventors and innovators continues. Who will step up?
The 2019 DiscoverE Co-Chairs leading the National Engineers Week 2019 include the DiscoverE Leadership Council* and the National Council of Examiners for Engineering and Surveying® (NCEES). To learn more about other national DiscoverE programs click here.
*Bechtel, Bentley Systems, ExxonMobil Corporation, NCEES (National Council of Examiners for Engineering and Surveying), Northrup Grumman Foundation, Shell Oil Company, TE Connectivity, Underwriters Laboratories.
Schedule of Events
February 18, 2019
February 19, 2019
February 20, 2019
February 21, 2019
February 23, 2019
* Events with an asterisk require pre-registration.
Celebration at UD
We are pleased to offer many entertaining and enjoyable events in 2019. Contributors to the local celebration of National Engineers Week include the UD College of Engineering, the COE Student Organizations, UD Engineering K-12, the Delaware Council of Engineering Societies (DCES), and JPMorgan Chase Co.
We hope you will make time in your busy schedule to attend and participate in a few of the events as we celebrate the 68th anniversary of National Engineers Week! Many events are free and open to the UD community. For further information and updates call (302) 831-2401 or email us at  engr-contacts@udel.edu.
2018 Build-A-Thon Video Recap