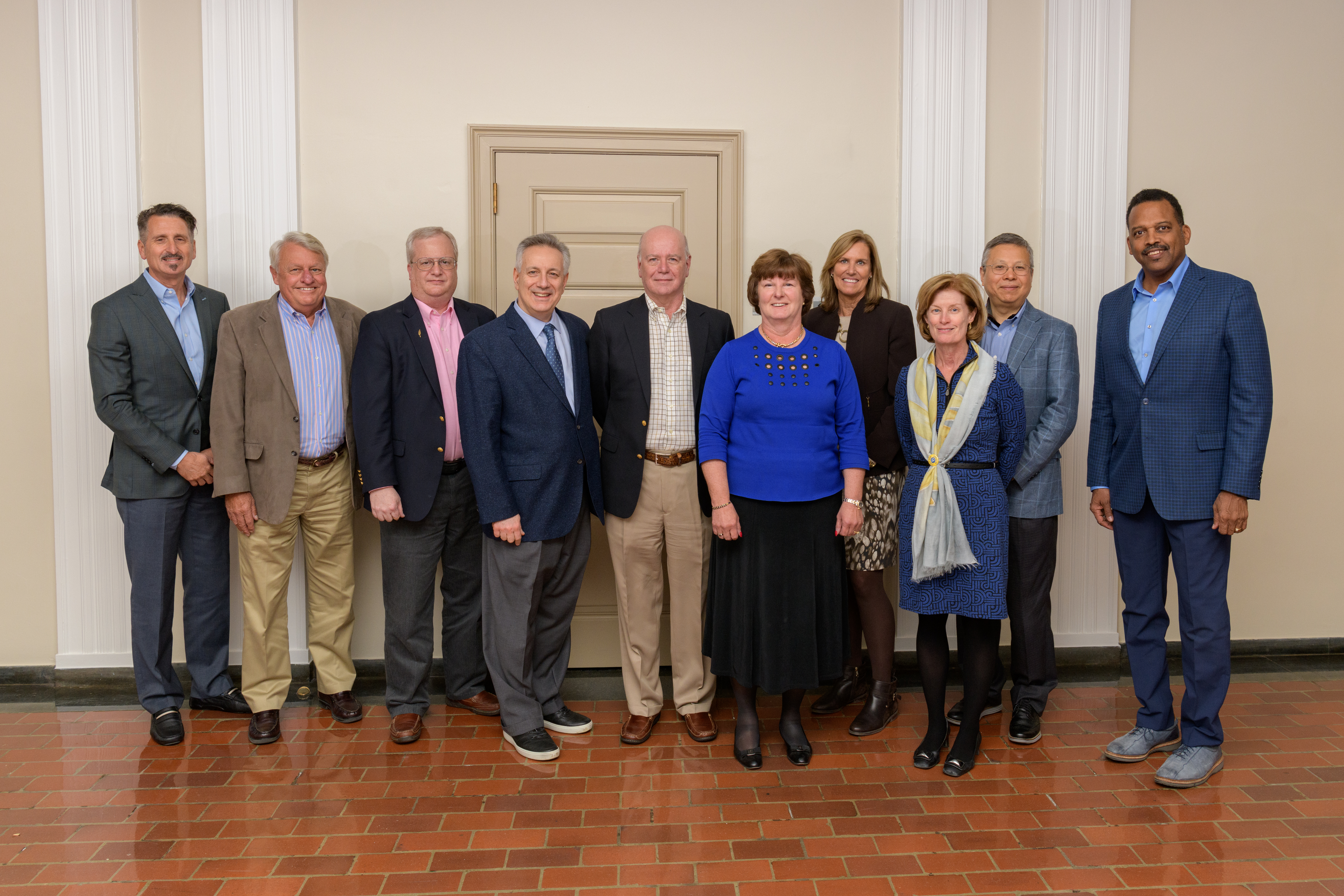 The College of Engineering Advisory Council, a collection of distinguished alumni and friends of the College of Engineering, meets annually to advise the college and to evaluate its progress towards its goals. Pictured (L-R): Guy Marcozzi, David Helwig, Mark Bendett, President Dennis Assanis, Vance Kershner, Linda Myrick, Terri Kelly, Provost Robin Morgan, Sean Wang and Dean Levi Thompson.
Mark P. Bendett
Business Development, Applied Science Programs
Lockheed Martin Corporation
Guy Chiarello
President
First Data Corporation
Francis "Skip" Gardiner
President
Gardiner Realty & Development Co.
David R. Helwig
President
Helwig Consulting Services, LLC
J. Rodman Steele, Jr.
Attorney/Partner
Duane Morris LLP
Terri L. Kelly
President and CEO
W.L. Gore & Associates, Inc.
Vance V. Kershner*
President and CEO
LabWare, Inc.
Don R. Linsenmann
Founder and CEO
Executive Transformation Mentoring
Guy F. Marcozzi
President
Duffield Associates, Inc.
Linda Myrick
Biomarkets Program Director
Air Liquide Delaware Research & Technology Center
Kathleen Stebe
Deputy Dean for Research
University of Pennsylvania School of Engineering & Applied Science
Sean Xiaolu Wang
Founder and Chairman
B&W Tek, Inc.
David F. Welch
Co-Founder, President and Director
Infinera Corporation
Robert M. Zanzalari
CERDEC Deputy Director
U.S. Army RDECOM
Advisory Council – Emeritus Members
Richard E. Emmert
Retired - Executive Director
American Institute of Chemical Engineers (AIChE)
Robert W. Gore
Retired - President and CEO
W.L. Gore & Associates, Inc.
Advisory Council – Past Members
Barry Bentley
Executive Vice President and Director
Bentley Systems
Keith A. Bentley
Chief Technology Officer and Director
Bentley Systems
Craig F. Binetti
Retired - President
DuPont Applied BioSciences
Vincent P. Manno
Provost and Dean of Faculty, Professor of Engineering
F.W. Olin College of Engineering
William G. Mavity
CEO and President
Cerephex Corporation
Michael R. McMullen
President and CEO
Agilent Technologies