Quick Links
Click to jump down the page
Welcome Statement from the Associate Dean for Academic Affairs and Chief Diversity Advocate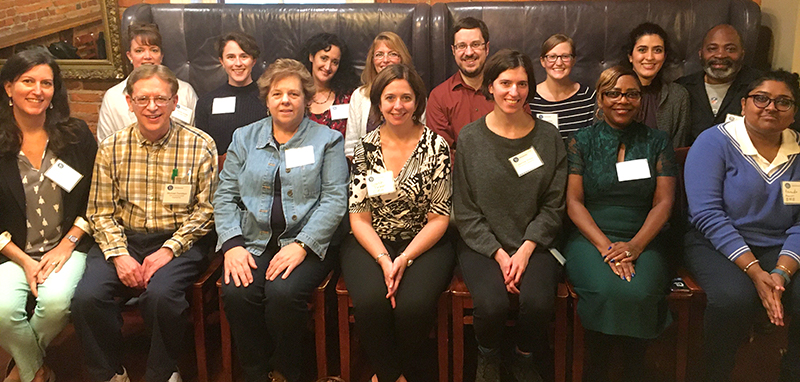 Front Row:  Rachel Davidson; Michael Davidson; Michele Schwander; Sarah Palmer; Jasmine Shirazi; Deirdre Martin; Amanda Ramsaran
Back Row: Wendy Jordan; Megan Killian; Louise Bank; Michelle Pergeorelis; Josh Enszer; Allison Andrews; Elahe Ganji; Al Lance
The UD College of Engineering is committed to broadening participation and fostering inclusion among its students, faculty, and staff. A more diverse and inclusive College supports academic excellence by expanding the talent pool we draw from, facilitating creativity and innovation, and helping us better serve a diverse society. To achieve this goal, we seek to identify and break down barriers that have systematically, though often unintentionally, inhibited full participation by all. We have a broad-based effort underway, with more than 40 faculty, staff, students actively and meaningfully engaged through four working groups focused on faculty, graduate students, undergraduates, and staff, respectively. Suggestions and questions are welcome. Please contact the appropriate group leader.
Rachel Davidson
Associate Dean for Academic Affairs and Chief Diversity Advocate
rdavidso@udel.edu
Leadership for Working Groups
University-Level Partners
UD-ADVANCE, NSF-funded institute aimed at increasing opportunities for UD's women faculty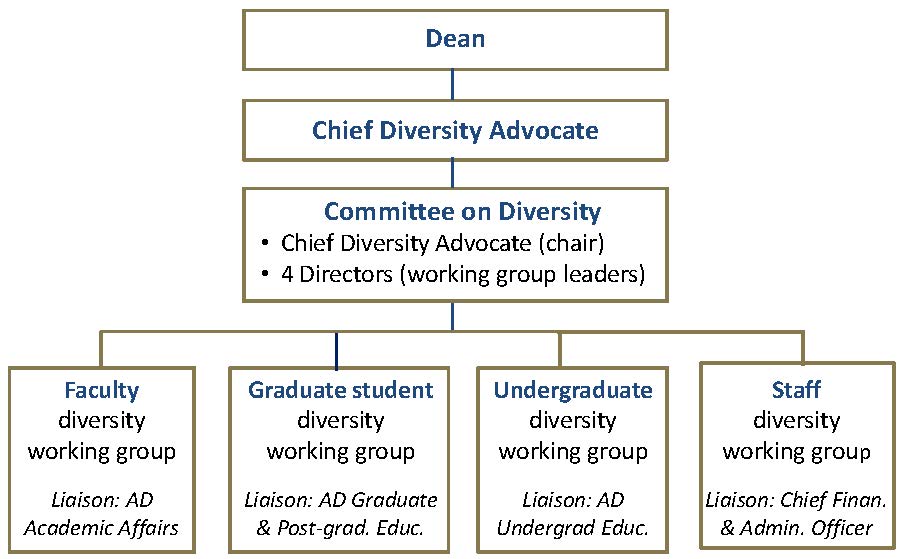 Our Approach
Guiding Principles
Engage. The challenges we face require ideas, energy, and buy-in from as many members of the College community as possible. We seek to engage everyone at the level of commitment they can offer.
Divide and coordinate. By partitioning responsibility among the four groups and empowering each to define the challenges and propose solutions, we establish accountability and allow each group to focus on a more manageable task. Coordinating among the four groups, with everyday College operations and with the Vice Provost for Diversity, UD ADVANCE, and others at the university level, we ensure the groups' efforts are aligned and efficient.
Be strategic. Our approach is data and research driven, systematic and analytical, setting goals, targeting interventions, and assessing progress to be as effective and efficient as possible.
Integrate. Rather than operating as a separate stream of activities, diversity and inclusion must be an integral part of normal College operations – recruiting, advising, and teaching students; recruiting and supporting faculty and staff. This is the only way to get to the source, rather than symptom, of some issues, and to ensure that changes are institutionalized and sustainable.
Communicate. We seek transparency and openness for diversity and inclusion efforts so that we can uncover and include as many good ideas as possible, engage as many community members as possible, and ultimately take advantage of momentum from early successes to facilitate later ones.
Research
The following papers describe research conducted in the College as we strive to advance understanding of diversity and inclusion, and to support research-based approaches to it.
2018
2019
2020
Programs and Groups
The College of Engineering seeks to recruit and retain students, faculty, and staff through the implementation of programs to assist in the achievement of academic, career and personal goals.
Resources to Inspire Successful Engineers (RISE) – Program to recruit and support success among the undergraduate students from underrepresented groups
McNair Scholars – Federally funded program to help prepare low-income, first-generation college students and students from underrepresented groups for graduate study
COE Student Group Funding
This mechanism is partially funded through a generous donation from JP Morgan Chase.
Women In Engineering – Group of women engineering graduate students supported by the Dean's office to help promote the participation and success of women in engineering.
Association for Computing Machinery – Women (ACM-W) Also known as CISters. A group of undergraduate, graduate, and faculty that support women in technology-driven fields at UD.
GEM – Fellowship program that offers opportunities for underrepresented minority students to obtain M.S. and Ph.D. degrees in engineering through a program of paid summer internships and graduate financial assistance.
Bridge to the Doctorate – Funding and programming to increase the number of students from underrepresented groups who pursue and complete graduate study in STEM.
COE EmPOWER – A student-led peer mentoring initiative for graduate students.
National Center for Faculty Development and Diversity (NCFDD) –  Attend webinars, workshops, or multi-week courses. Or sign up for weekly emails with helpful tips on how to be an effective faculty member. UD has an institutional membership, so it is free for all faculty to join. Just go to the website and click join!
Data
To assess progress towards our goals, evaluate interventions, and identify both successes and areas requiring more attention, we are regularly monitoring (1) the demographic makeup of the faculty, students, and staff in the College of Engineering and (2) the climate within the College.
Demographic Data
Demographic data are updated each fall. They include both data on absolute numbers of faculty, students, and staff, as well as comparisons to our peer institutions on these metrics.
Additional demographic data is available for the University of Delaware as a whole through the Institutional Research Office: UD Data on Diversity.
Focus group studies
In collaboration with the UD Center for Research in Education and Social Policy (CRESP), we conducted focus group studies of College of Engineering undergraduates (2017), graduate students (2018), and staff (2018). The aims of the focus group studies were to:
Examine perceptions of diversity and inclusion among the students and staff in the College
Identify strengths, areas in need of improvement, and differences in perceptions between majority and underrepresented groups
Provide the foundation for development of climate survey instruments to be deployed periodically in the future to track progress
Summaries of the studies are available here:
Climate surveys
Surveys developed based on the focus group results will be deployed for undergraduate students, graduate students, and staff every two years to assess the climate in the College. Perceptions of the faculty will be captured using the UD ADVANCE climate survey.
Staff survey
Coming soon.
Faculty climate survey
See UD ADVANCE for the periodically conducted University faculty climate survey.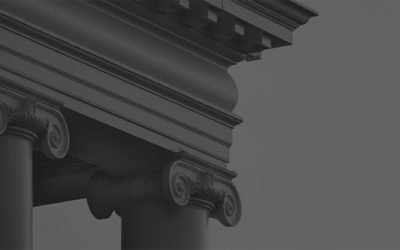 We realize that many of you, like us, are working to understand, process and react to the recent murders of George Floyd, Rayshard Brooks, and others, and to determine how to support the Black Lives Matter protests occurring across the nation.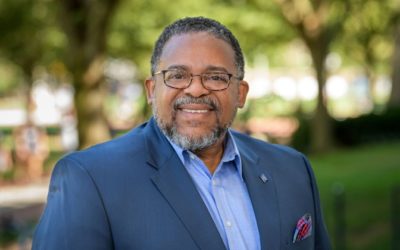 Michael Vaughan appointed interim vice provost for diversity and inclusion full-time Michael L. Vaughan, who has served as interim vice provost for diversity and inclusion at the University of Delaware since September, will now be devoting himself full-time to the...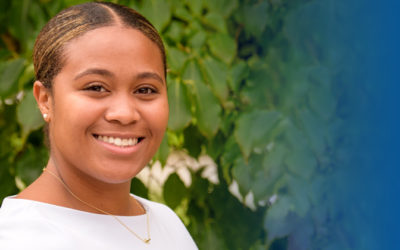 Civil engineering student leader shares her path to graduation.
Celebrating Women Engineers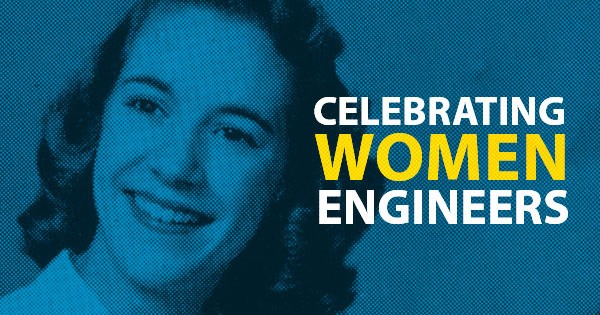 The University of Delaware is committed to the success of women in engineering. Here are just a few of the women who set the course for the engineers of today and tomorrow.