Message from the Dean
Recently, I was honored and humbled to be elected to the National Academy of Engineering (NAE) alongside Terri Kelly, a fellow UD engineering alumnus and retired president and CEO of W.L. Gore & Associates.
To be honored this month, Black History Month, is especially meaningful to me. I hope the recognition I, and other African Americans, have received from organizations such as the NAE demonstrates the importance of broadening participation in STEM fields. We do a much better job tackling society's most challenging problems when we tap the full set of innovative and creative skills and inputs available from diverse teams.
I am proud to lead a College of Engineering that is diligently pursuing an environment that embraces excellence through diversity, equity and inclusion. University leaders are committed to this goal, as well, so our efforts are multiplying to bring about change. The following are a few examples of current initiatives at UD:
This Black History Month, I encourage you to think about how we can build upon the legacy of groundbreaking Black engineers, scientists and physicians whose contributions have shaped our world for the better. Here are a few Black innovators in STEM who inspire me. I hope their stories inspire you, too.
Lilia Abron
In 1973, Abron became the first African-American woman in America to earn a Ph.D. in chemical engineering. Five years later, she became the first African American to start a consulting firm focused on the environment and environmental issues. Read more from PEER Consultants.
Mae Jemison
Almost three decades ago, Jemison made history as the first African-American woman in space. Today, this astronaut, engineer and physician leads 100 Year Starship, an organization that aims to make human travel beyond the solar system a reality within the next 100 years. Learn more about Jemison from the National Women's History Museum.
Percy Pierre
Pierre, Vice President Emeritus and Professor of Electrical and Computer Engineering at Michigan State University, is the first African American to earn a doctorate in electrical engineering and has had a distinguished career in government and higher education. He co-chaired the 1973 National Academy of Engineering (NAE) symposium that launched the national minority engineering effort and served as the program officer at the Alfred P. Sloan Foundation for minority engineering. Learn more from the History Makers.
Jesse Russell
After graduating from Tennessee State University in 1972, Russell became the first African American to be hired directly from a Historically Black College and University (HBCU) by AT&T Bell Laboratories. There, he led the first Bell Labs team to introduce digital cellular technology in the U.S. He later became president and CEO of incNETWORKS, Inc., a wireless communications company. Learn more from the History Makers.
Velma Scantlebury
Scantlebury, who spent more than a decade as associate director of the Kidney Transplant Program for the Christiana Care Health System right here in Delaware, is the first Black female transplant surgeon. She is currently a professor of surgery at Texas Christian University and the University of North Texas Health Science Center. Learn more about her journey from Delaware Today and Diverse: Issues in Higher Education.
John Brooks Slaughter
He made history in 1980 when he became the first African-American director of the National Science Foundation (NSF). He has held a number of academic administrative positions including chancellor of the University of Maryland. Slaughter is now a Professor of Education and Engineering at USC, focusing on increasing minority participation in science and engineering. Learn more from the National Science Foundation.
Levi T. Thompson
Dean
Elizabeth Inez Kelley Professor of Chemical Engineering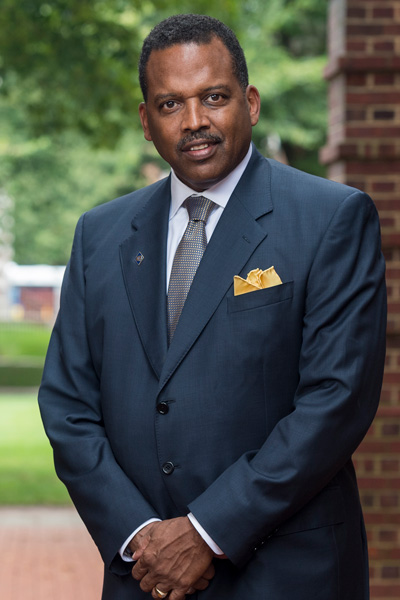 Tradition of Excellence
The University of Delaware (UD) has a tradition of excellence, from the founding of Alison's academy in 1743 to our research-intensive, technologically advanced institution of today. UD offers a broad range of degree programs in its ten colleges.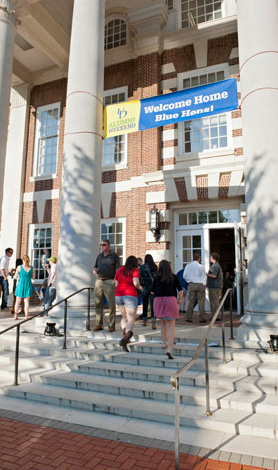 The College of Engineering is home to seven academic departments devoted to building a community of problem-solvers focused on challenges associated with sustainability, energy, health care and the environment.
Our internationally recognized faculty includes named professors, National Academy of Engineering members, NSF and DOD faculty career and young investigator award winners, and University teaching award recipients. World-renowned initiatives led by college faculty include college-based research centers and university-based research centers and institutes, all of which provide a fertile training ground for future engineers. This research takes place in modern innovation spaces, such as the Patrick T. Harker Interdisciplinary Science and Engineering Laboratory (Harker Lab), which houses 200,000 sq. ft. of research and teaching space, including the UD Nanofabrication Facility. Additionally, the University's Science, Technology, and Advanced Research (STAR) Campus expands university-based research and shared research undertaken with corporate partners.
Our students also learn in real-world settings through internships and co-op programs. Student organizations such as Engineers Without Borders give students an opportunity to address engineering challenges in developing countries.
Strategic partnerships with industry, government and academic institutions complement these initiatives, expanding the college's reach and cultivating a culture of interdisciplinary collaboration, leadership and entrepreneurship among future engineers. Our graduates are leaders in academia and industry alike.